Blue Öyster Cult — The Band
Blue Öyster Cult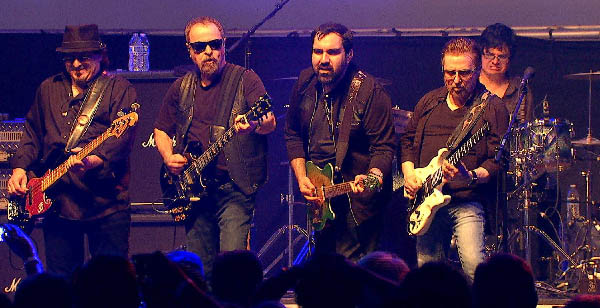 Since 1972, Blue Öyster Cult has been traveling the world bringing their unique take on rock music with them.
The band was founded in the late '60s with members Eric Bloom (vocals, stun guitar), Donald "Buck Dharma" Roeser (lead guitar, vocals), Allen Lanier (keyboards, guitar), and rhythm section brothers Joe Bouchard (bass, vocals) and Albert Bouchard (drums, vocals).
With relentless touring, Blue Öyster Cult grew their fanbase, and scored their biggest hits with "(Don't Fear) The Reaper" and "Burnin' For You," both quintessential rock songs that remain popular to this day.
Now nearing their fifth decade, Blue Öyster Cult is still "On Tour Forever," playing shows to sold-out crowds in the United States and abroad.
2020 has been a momentous year for the band, as they are due to release their first studio album of all-new songs, titled "The Symbol Remains" in October, and have already welcomed six releases so far this year — three live albums and three reissues, all from Frontiers srl.
Blue Öyster Cult will be on the road, "On Tour Forever," and will soon be bringing their show to a venue near you!
Eric Bloom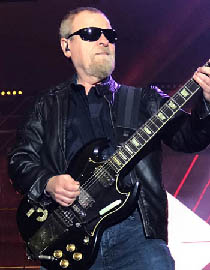 Lead vocalist Eric Bloom's distinctive vocals are the personality and power that drives Blue Öyster Cult's harder-hitting songs.
On stage, Eric is a busy man… in addition to his lead vocalist duties, he also skillfully plays both guitar and keyboards.
Eric's songwriting efforts comprise some of Blue Öyster Cult's best songs. His collaborations with Science Fiction Writer Michael Moorcock brought to light three excellent songs, "The Great Sun Jester," "Black Blade" and "Veteran of the Psychic Wars."
Donald "Buck Dharma" Roeser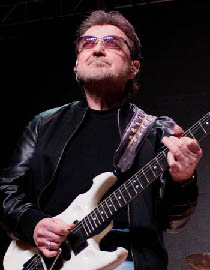 Buck Dharma's guitar playing is the signature sound of Blue Öyster Cult, and is the driving sonic force of Blue Öyster Cult. An extremely expressive player, and he continues to push his playing in new directions.
Buck is a gifted songwriter and excellent singer. His smooth vocal style has graced the BÖC hits "Don't Fear the Reaper" and "Burnin' For You." His voice contrasts and complements the sharper-edged style of lead vocalist Eric Bloom.
Buck's songwriting juxtaposes alluring chord progressions, melodic textures and fascinating lyrical ideas with the best parts of pop music.
Richie Castellano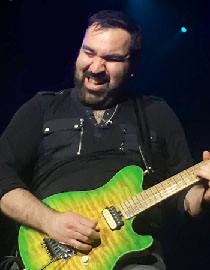 Multi-instrumentalist Richie Castellano began his journey with Blue Öyster Cult in 2000, when he substituted as Front of House engineer. In October of 2004, he joined BÖC full time as the bassist, and when original member Allen Lanier retired, Richie switched from bass to guitars, keyboards, and vocals.
On stage, Richie is always on the move. His high energy performances start from the first note of every show, and never let up until the house lights come on.
When Richie's not on the road, he is often found creating his popular podcast,"Band Geek," with his gang of talented "geeks." including Andy Ascolese (occasional BÖC sub and road crew member). His one-man weekly "Multi-camera Rock Show!" on Sunday afternoons has been a feat of interactive music and technology.
Richie has a Masters Degree in Music from the Purchase College Conservatory of Music. Richie's discography includes production credits from various artists, and solo projects. Richie has been the recipient of the first place award for the 1998 Songwriter's Hall of Fame songwriting competition and the 1996 Berklee College of Music soloist award.
Danny Miranda
Danny Miranda hails from Long Island, New York. His initial tenure with Blue Öyster Cult was in 1995-2004, after which he departed to play for the Las Vegas musical "We Will Rock You," featuring the music of Queen. His talents caught the attention of Queen guitarist Brian May, and led to him being hired for the 2005-2006 Paul Rogers and Queen tour. He played with Meatloaf after that, before reuniting with BÖC in early 2017.
Danny's return has restored that in-your-face melodic approach that elevates the role of the bass from support to front and center. Danny & Buck's improvised duet during "Buck's Boogie" is a highlight of any show.
Jules Radino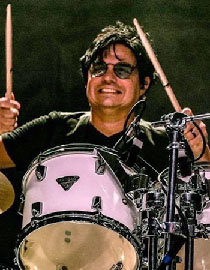 Jules Radino has been the drummer for BOC since 2004.
Since 2004, Jules Radino has been behind the drum kit, displaying his hard-hitting and precise drum work that propels and energizes BÖC's performances.
Jules had already been touring nationally and internationally before he joined BÖC. When he's not on the road with BÖC, Jules plays and records frequently in the New York area.
As an educator, Jules has taught at clinics nationwide and offers lessons locally on Long Island or via Skype or Facetime.